Local Attractions
Visitors and residents alike associate Millbrook with the charms of another age. It's a village to explore on foot, whether discovering its excellent small shops and restaurants or merely ambling along its tree-lined main street, with Tribute Garden at one end and the village green and band shell at the other.
Fitch's Corner
Millbrook's high natural setting affords fine distant views as well as meandering closeups of its many stunning horse farms, which lend the area a particular beauty. July's Fitch's Corner Horse Trials and August's Millbrook Horse Trials - both featuring dressage, cross-country, and stadium jumping competitions as well as the Second Career Thoroughbred Program - have become emblematic of the horse culture here.
Millbrook School
Millbrook is near a number of distinguished private secondary schools, beginning with its own Millbrook Prep School, which boasts its LEED-certified (for green design) Math & Science Center, performing and visual arts facility, and the Trevor Zoo, dedicated to endangered species.
Also nearby are Kildonan and Maplebrook schools in Amenia and Trinity Pawling School in Pawling, while The Hotchkiss School, Salisbury School, Indian Mountain School, and Kent School are only 30 to 45 minutes away in western Connecticut.
Fisher Center
At the university level, nearby Vassar, Marist, and Bard colleges are important cultural resources for the entire Hudson Valley region. Vassar's Frances Lehman Loeb Art Center and Powerhouse Theater are vital, active venues. Bard's Conservatory of Music makes possible year-round concerts and recitals, and the annual SummerScape of dance, opera, and orchestral music takes place at the school's Fisher Center for the Performing Arts, designed by Frank O. Gehry and inaugurated in May, 2003. Its Center for Curatorial Studies / Hessel Museum is another of Bard's important resources.
Cary Institute Auditorium
Painted Turtle
Millbrook is a renowned center for environmental inquiry. Rockefeller University's 1,200-acre field study campus is devoted to research in ethology and ecology (on subjects as diverse as the echolocation of bats and the breeding of songbirds). The Cary Institute of Ecosystem Studies brings together eminent scientists and students to form one of the largest ecological research programs in the world, addressing such problems as the quantity and quality of freshwater resources and the health of forests. Set aside within the institute's nearly 2,000 acres are several public hiking trails. Cary also offers the community a popular series of lectures, documentaries, and panel discussions covering many environmental issues.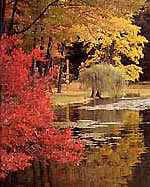 Innisfree
Two very beautiful gardens on a grand scale anchor Millbrook: Wethersfield to the east and Innisfree to the west. The former, created on ten acres in the 1940s and 1950s from the dairy farm of philanthropist and environmentalist Chauncey Stillman (1907-89), is modeled on the formal Italian prototype. Innisfree, once the private garden of Walter and Marion Beck, was designed in adherence to the precepts of an 8th-centry Chinese painter, poet, and landscape designer. Both are havens of peace and beauty.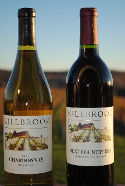 Three miles up Valley Farm Road from MCH is Millbrook Vineyards & Winery. The winery is on high ground, looking over its vines and, in the distance, the hills of the Hudson's western bank. Winemaker John Gaziano produces 10,000-12,000 bottles of Chardonary, Pinot Noir, Cabernet Franc, and Tocai Friulano a year. The winery hosts musical events and art shows throughout the year, and is much in demand for wedding receptions.
Orvis Sandanona
For the sportsminded, the 400-acre Orvis Sandanona complex is a premiere venue for sporting-clays shooting and fly-fishing. Sandanona's Shooting School is open January-December. With two private ponds and a trout stream on the grounds, the Fly-Fishing School offers classes March-September.
Farther afield but still easily accessible from MCH are many historic and art-oriented sites:
To the South
the 500-acre sculpture park of Storm King
the Dia art center at Beacon. Rising from a 1920s printing factory, its 240,000 square feet of skylit exhibition space contain an important collection of large-scale contemporary sculptures and paintings, including many Warhols, from America and abroad.
Boscobel, a fine Federal house meticulously restored under the supervision of Berry Tracy when he was curator of the American Wing at the Metropolitan Museum of Art in New York. The period furnishings, including pieces by Duncan Phyfe, are prime examples of the artistry of New York cabinetmakers. Outside are an apple orchard, formal rose garden, and views across the Hudson to West Point. In summer Boscobel is home to the highly regarded Hudson Valley Shakespeare Festival.
Of course, Millbrook is quite close to New York City, only 1 1/2 (off-peak and weekends) to 2 hours by a very reliable and comfortable commuter train; or, by car, about 2 hours on all-parkway roads—no trucks!—depending on traffic. A day trip to New York for a fine lunch, afternoon matinee at the theater, shopping, and/or museum shows will add a whole new dimension to your stay at MCH, combining "the best of both worlds."



By Train

Millbrook is 8 miles from the Dover Plains railway station on the Harlem Line and 15 miles from the Pougkeepsie station (designed by the same firm responsible for New York's glorious Grand Central Station) on the Hudson Line. Both trips are scenic and easy, and both lines arrive at and depart from Grand Central, in the heart of midtown. Please consult Metro-North for schedules and fares.



By Car

The toll-free Taconic State Parkway is only a few miles to the west of Millbrook, and the trip south to New York is scenic, on a road in good condition. The Taconic is a landmark byway that was built in the 1930s as part of President Roosevelt's WPA program for infrastructure improvements, putting people back to work after the Depression. The speed limit is a strictly enforced 55 miles per hour, and at certain times of the year, drivers must be keenly aware of the local wildlife that can roam near and onto the road.

If you wish to travel directly into Manhattan, we recommend the inexpensive and carefree option of the train, described above.
To the North and West
To the North and East
the many horse farms that have become synonymous with Millbrook and create a landscape of particular beauty
private hunting clubs such as Mashomack Preserve at Pine Plains, where summertime polo matches also take place, and Tamarack Preserve near Amenia
world-class music, at Tanglewood, the summer home of the Boston Symphony near Lenox, MA; and at Music Mountain, renown for its weekend chamber series, in Falls Village, CT.