Rates & Policies
Room Rates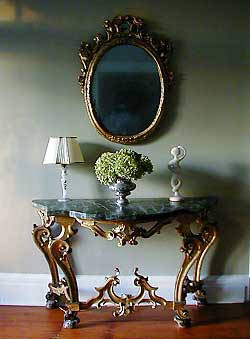 Room rates per night are as follows:
Varigotti Room : $215 weekends, $190 weekdays
Chiavari Room : $240 weekends, $215 weekdays
Barocco Room : $265 weekends, $240 weekdays
Luigi Filippo Room : $290 weekends, $265 weekdays
Discounts are possible for longer stays.
Taxes (8.125% state and 4% lodging) are additional. We accept cash, personal checks, Visa, and Mastercard.

Reservations
Reservations are taken by phone and online. To request reservations online, go to our Home page and click on Check Availability. We welcome informational queries via email and phone. Regardless of availability, we always return your calls, answer your emails, or reply online.
At the time of booking, a deposit representing 50 % of the total stay's cost, including taxes, is taken by credit card, and a confirming letter or email is sent to you. The balance is paid at the end of your stay.
We gladly accept single-night stays on weekdays year-round and on most non-holiday weekends November through March. During our highest season, April - October, when there is a 2-night minimum on weekends, it's still worth inquiring, in case a sudden cancellation has created a single-night availability. Full payment of single-night stays is due at the time of booking.
Policies
Millbrook Country House is intended as a tranquil retreat, encouraging genuine relaxation. Consequently we have no televisions in guest bedrooms. We do, however, have a small television in our office/library, which we can make available for guests' viewing.
MCH offers wireless internet service for guests who have brought their own smartphones, laptops, or notebooks.
Check-in begins at 3pm; check-out ends at noon.
Children and Pets
In order to assure a relaxing environment for all our guests, and in consideration of our antique furnishings, MCH regretfully does not generally accept young children or pets, but do inquire as we sometimes make exceptions. We have, however, our own delightful cats—mischievous Homer, a Russian Blue (mostly); Poppy, our very social calico; and the timid Charlotte, a long-haired Maine Coon. They lend their special charms to your stay if you are an animal-lover and seek them out. They do not come into our main house when guests are allergic.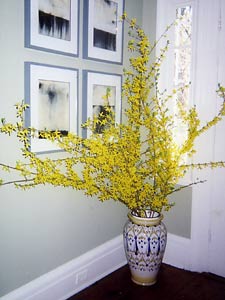 Cancellations
As we are a small business, cancellations (especially last-minute ones) affect us greatly, and so considerable care has gone into creating a policy that is fair to all.
When a booking is cancelled in a timely fashion, i.e., 14 days or more prior to the planned arrival, you may choose either to receive a refund of the deposit, minus a $50 booking fee per room, or to apply the entire amount to a future stay.
If cancellation occurs fewer than 14 days prior to the planned arrival, the deposit is forfeited unless we are able to re-rent the room(s), in which case the policy for timely cancellation applies.
Should an early departure be necessary, amounts due will nevertheless reflect the original booking.
Please note :
For holidays or high-demand special events such as graduations, parents' weekends, and horse trials, the timely cancellation period is 30 days, rather than 14.
When all four rooms are reserved together (for wedding guests, parties, etc.), the deposit is non-refundable.

Finally...
Millbrook Country House is a non-smoking premises. We also request that food and drink not be consumed in the bedrooms, but rather in the parlors, dining room, or (when weather permits) the gardens. Guests' wines or foodstuffs purchased at Millbrook's green market, for example, can be kept chilled on request until needed.