Meals & Services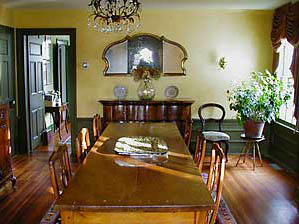 Breakfast and teatime
Included in each night's stay are an excellent multicourse breakfast and afternoon tea, both prepared by your hosts. (Giancarlo's food credentials come from a lifetime of eating very well in Emilia-Romagna; Lorraine's from her years as an editor at Gourmet magazine.) Breakfast is served anytime between 7 and 10am in our dining room, and tea between 4 and 5pm in our parlors; in fine weather both are often served outdoors in our gardens.
You'll find no stodgy store-bought muffins or commercial cereals at Millbrook Country House. Breakfasts are prepared each morning by your hosts and typically include a light beginning of seasonal fruits--perhaps poached pears with a glaze of lemon syrup in winter, fresh berries gratin in summer. This might be followed by individual herb omelets (the herbs from our garden, the eggs from a local farm) and cream scones or a warming challah bread pudding with caramel whiskey sauce. Whatever the morning's menu, a selection of fine-quality loose teas and Giancarlo's own blend of coffee (an American roast for flavor, Italian for structure) flow as freely as the congenial conversation among guests.
Dinner
On Fridays, a three-course prix-fixe dinner, with aperitif and digestif, is offered for $45 per person. This should be arranged for at least three days in advance. Menus are determined by seasonal availabilities and the culinary inspiration of your hosts, though medical dietary requirements are respected. We are also happy to recommend reliable local restaurants and make your reservations when desired.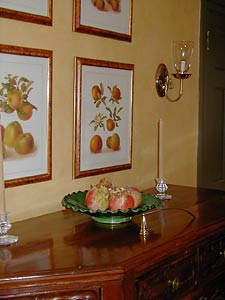 Housekeeping
MCH takes care in assuring a high standard of twice-daily housekeeping, including turn-down service at night, so that guests find their rooms restful and welcoming whenever they return to them. We believe that life's normal stresses are best relieved, and comfort encouraged, in surroundings that are both beautiful and harmonious.
Touring
Should you desire help in planning explorations of this lovely area, MCH has numerous books on such subjects as the Hudson's stately houses, DIA Beacon, Storm King sculpture garden, and Millbrook's own Innisfree. In addition we can help arrange for guided tours of various venues, including the Culinary Institute of America in Hyde Park, set you off on nearby walking or hiking trails, or provide maps of favorite drives along the country lanes that connect Millbrook's many horse farms.

Party Planning
Millbrook Country House enjoys a particularly pretty position on the grounds of the former Philip Hart estate. Behind our circa 1808 house are flower and sculpture gardens and a level expanse of lawn that make an ideal venue for small, select gatherings.
For MCH guests (only) who would like to host outdoors events such as:
garden parties
cocktail receptions
graduation picnics
wedding breakfasts or luncheons
anniversary / birthday luncheons or dinners
wine tastings
We can offer our private garden as well as provide a short list of top-quality Millbrook - area caterers who would consult with you on every aspect of your plan, from menu to tent and table-settings.
In keeping with the quiet intimacy of MCH, invited guests for such garden gatherings cannot exceed 30.
For more information, please contact us by phone (845) 677 9570 or email.